Oil Group In The News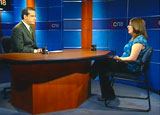 VIDEO! Watch NJCA Oil Group Director Wende Nachman on programs for affordable heating, interviewed by David Weiner, host of the series Labor's View and President of CWA Local 1081.
VIDEO! Watch a 10-minute interview with Wende Nachman, on "Help With High Heating Bills" (below on this page). BIO-FUELS! Click here for Bio-Fuels information.
NJCA Oil Group In The News

Video

Press Releases

NJCA Oil Group Newsletters